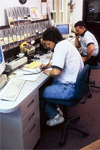 About Us


Fowler's Express was founded in 1942 by Vernon Fowler of Whitman, Massachusetts.
The company began by operating one truck which provided daily service between the south shore of Massachusetts and the greater Boston metropolitan area.

In 1973 the company incorporated at which time Fowler's was being operated by Dennis Fowler Sr. son of the original founder and owner, Vernon Fowler. As the company grew and prospered, additional vehicles were purchased, territory expanded and facilities upgraded. By the mid-nineteen eighties, the management at Fowler's Express found that further facility expansion was necessary and therefore made a major capital investment in the purchase of a modern 40 door trucking facility located on Turnpike Street at the crossroads of the interstate highway network consisting of routes 24 and 495 in the Town of South Easton, Massachusetts.

Today, managed and staffed by third generation Fowler's and with a focus on value, the company operates three terminal locations, over 100 pieces of rolling stock, and provides daily service to the six New England States with connecting service beyond. In 2006 the company expanded its services by providing regular service to the Provinces of Ontario and Quebec Canada. Fowler's Express now provides connecting service to beyond points throughout both the United States and the Canadian marketplace. The South Easton, Massachusetts terminal continues to grow and presently operates 24 hours per day, six days per week; while also serving as the corporate office.

Fowler's Express Inc. offers straight truck, van, and flatbed transportation services. Our trailer fleet consists of 28' 40' 45' 48' and 53' equipment. Trailers and straight trucks are equipped with power hydraulic tailgates and overnight service to direct points is our standard. Our tractors are GPS equipped, thus providing immediate location and communication with our driver associates.

In more recent years, Fowler's Express has expanded it's offerings by providing warehousing services to both present customers as well as those looking for warehousing opportunities in the Southeastern Massachusetts marketplace. "Value" is what we provide and "value" is what you expect.

Our commitment to customer satisfaction remains our top priority. Technology is continuously being advanced. Inquiries are handled quickly and accurately by a staff of dedicated customer service professionals committed to providing you with the best transportation services possible. Our customer base is localized and it includes many well known national and fortune 500 companies.



Our Mission –


Is best expressed and defined by the following statement.

"To profit we must serve well and to serve well we must profit." .
More Links:

Shipment Tracking

Service Area

Company News

Contact Us